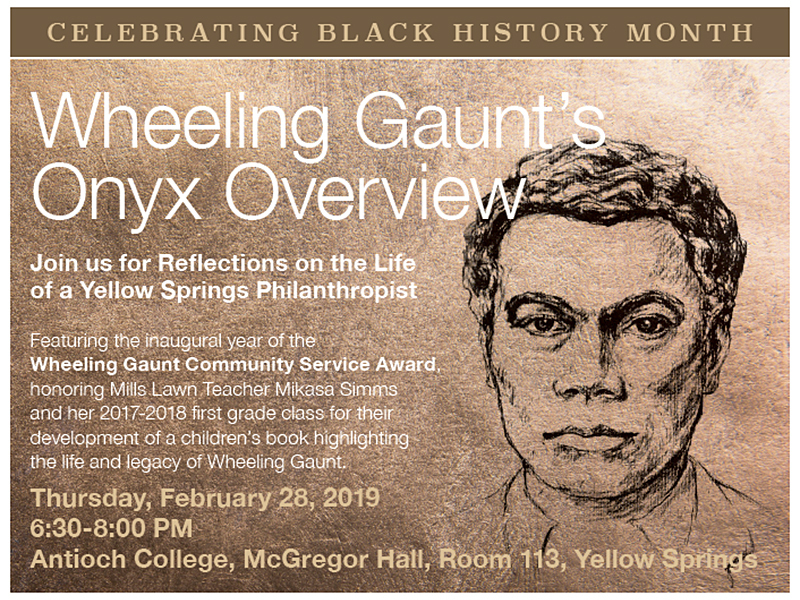 Yellow Springs Educator and First Grade Students First Recipients of Wheeling Gaunt Community Service Award
Megan Anthony
Monday, February 25, 2019
Yellow Springs Educator Mikasa Simms and students from her 2017-18 first grade class will be the first recipients to receive the Wheeling Gaunt Community Service Award at 6:30 p.m. on Thursday, February 28th. The Wheeling Gaunt Community Service Award is presented to individuals who demonstrate Gaunt's legacy of service.
Last school year, students in Ms. Simms' class participated in the project, Hidden Figures in the Yellow Springs community, inspired by the movie "Hidden Figures," the true story of African-American women mathematicians who served a vital role in NASA during the early years of the US space program.
"I wanted to know more about Wheeling Gaunt," said Ms. Simms, who grew up a block away from the local Gaunt Park. "My father is a widower and receives 10 lbs of flour and sugar at Christmas time from the Village. The annual distribution honors the bequest of Wheeling Gaunt. He was an ex-slave who donated farmland to Yellow Springs in 1894 with the stipulation that its rental income be used to buy flour each Christmas for the widows and now widowers."
Ms. Simms, who is an active member of the Young People of Color group and The 365 Project, both organizations committed to finding ways to recognize and promote racial diversity and inclusion beyond the month of February, also wanted her students to get a more in-depth understanding of African-American culture and heritage.
Out of those goals, Ms. Simms developed the 8-week long Hidden Figures project. During the project, students identified Hidden Figures in the YS community and interviewed 16 change-makers in YS to create a photo/video gallery of them. One of the results of this project was an ABC Wheeling Gaunt picture book that will soon be available for purchase at local Yellow Springs shops. The Wheeling Gaunt book will serve to raise awareness about Wheeling Gaunt and his contributions to the Yellow Springs community.
"Local historian Dr. Kevin McGruder took our first graders on a Blacks in YS tour," said Ms. Simms. "He served as our Wheeling Gaunt expert and inspired students to share their newly acquired knowledge of WG. The students decided to make an ABC book to teach others about his life. The book was unveiled at last year's Black History Assembly."
With grant monies, the book was copied and sold at the Mills Lawn Elementary School Spring Exhibition Night. First graders donated all of the proceeds from the book to the Wheeling Gaunt Sculpture Project. The book is now being professionally reproduced and will be given as a donor gift to the sculpture project as well as sold in Yellow Springs stores with proceeds going to the sculpture fund.
"This project is an outstanding example of the power of project based learning," said Yellow Springs Superintendent Mario Basora. "Not only did it raise awareness of our students about the invaluable contributions 'hidden figures' have made in our local community and around the country, but it also empowered our students to give back and have an impact on their village by raising awareness about Mr. Gaunt and other changemakers in Yellow Springs."
The award will be presented on Thursday, February 28th at 6:30 p.m. in Room 113 of McGregor Hall on the campus of Antioch College.