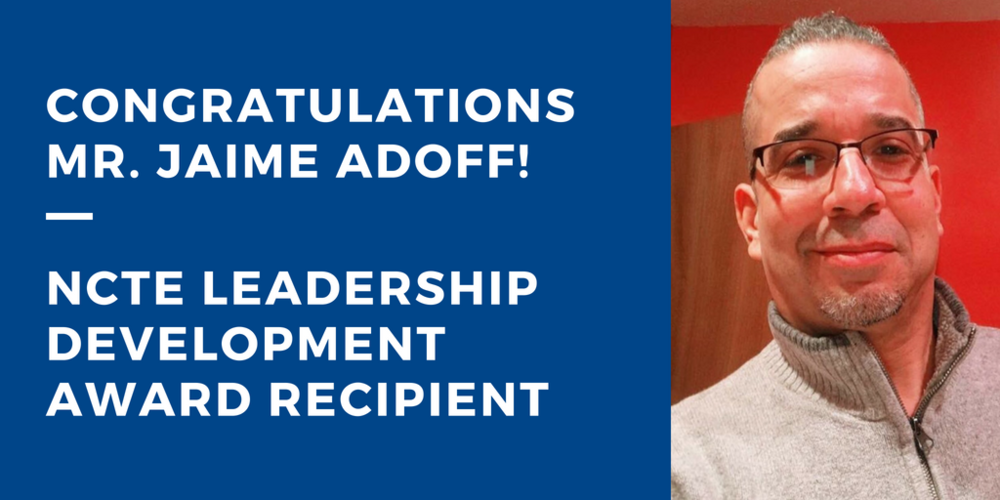 YS Educator Earns Leadership Development Award
Megan Anthony
Wednesday, August 15, 2018
YS Schools' Educator Jaime L. Adoff has earned national recognition from his peers in English education for his capacity for professional leadership.
Mr. Adoff is a recipient of the 2018 NCTE Affiliate Leadership Development Award given by the National Council of Teachers of English.
"This is what fearless thinking is all about - being passionate and engaged in your work, developing leadership skills, and a lifelong devotion to learning and growth,," said Superintendent Mario Basora. "We are very proud of Mr. Adoff for earning this recognition and of all of our educators who are leaders in their profession."
This award nurtures the development of new leaders within state/regional/provincial affiliates and NCTE. Given to early career teachers (1-5 years experience) who have never attended an NCTE Annual Convention, the award recognizes those who have demonstrated a capacity for professional leadership and a willingness to join and participate in the affiliate during the upcoming academic year.
The award winners will be publicly announced at the 2018 NCTE Annual Convention in Houston, during the Affiliate Roundtable Breakfast on Sunday, November 18.
Other winners include Stephanie Shearer of Central City, Nebraska; and Madeline Williams of Seattle, Washington.