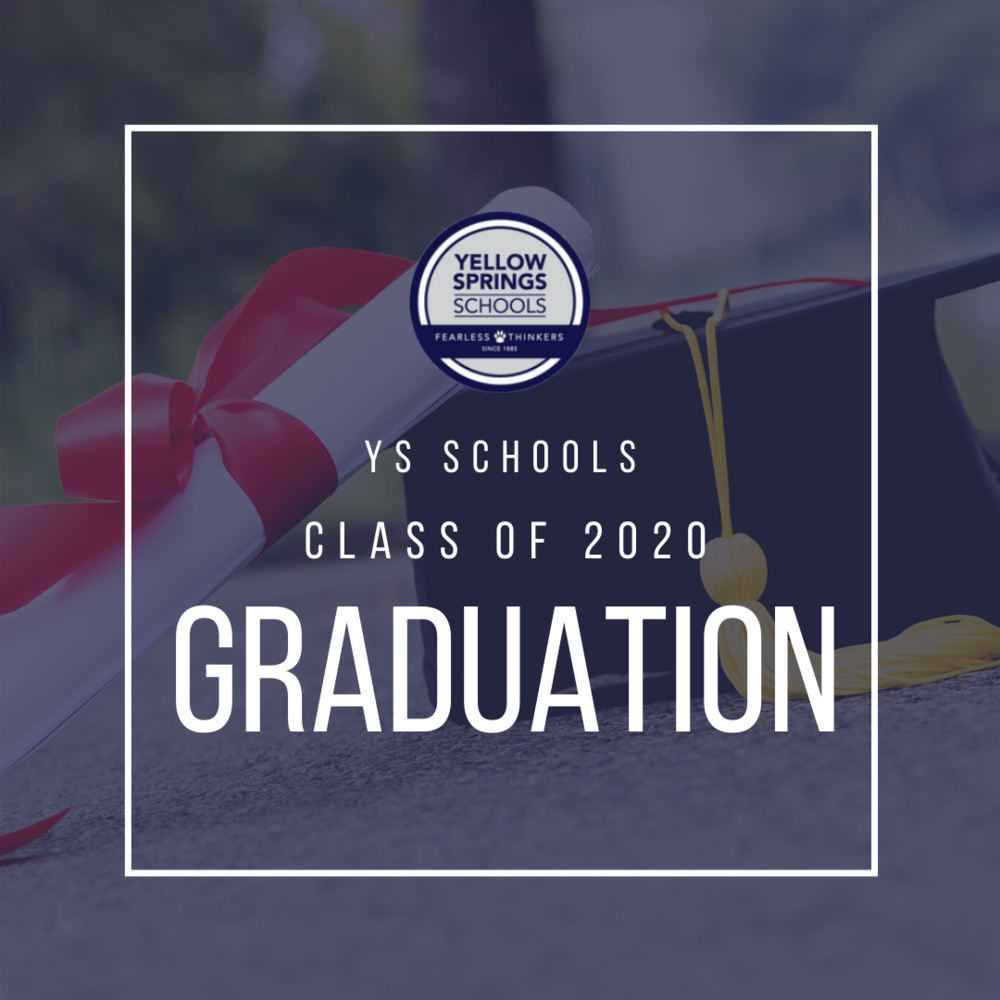 Yellow Springs Plans Innovative Graduation
Yellow Springs Schools
Friday, May 08, 2020
Yellow Springs Plans Innovative Graduation
Yellow Springs High School Seniors will graduate May 27, 2020, with a clap out car parade through the village, followed by an outdoor "drive-in" style ceremony in their vehicles.
YELLOW SPRINGS, Ohio, May 8, 2020—Yellow Springs High School will host a creative, "drive-in" style graduation ceremony that aligns with social distancing guidelines for the Class of 2020 on Wednesday, May 27, 2020.
The special event will begin with a Senior clap out parade of Class of 2020 vehicles through the village, followed by an outdoor screening of the ceremony and presentation of diplomas to graduates in their vehicles.
"Graduation is a celebration of not just a student's hard work and accomplishments over the last 13 years, but also the bright future ahead," said Yellow Springs High School Principal Jack Hatert. "Our staff is committed to a meaningful celebration of these students and their achievements, and we have worked hard to create a memorable and safe experience to honor the Class of 2020."
The Yellow Springs High School graduation plan was created in consultation with the Greene County Health Department and the Yellow Springs Police Department.
The event will begin at 8:00 p.m. on May 27, with Seniors and their family members in one vehicle lining up at YSHS. The Senior parade will travel from the high school through the village and arrive at Antioch University Midwest where the graduation ceremony will begin. The ceremony will be displayed on a 45' screen for seniors and families to watch from their vehicles. Student names will be read as the seniors drive past the screen and are awarded their diplomas by Mr. Hatert. Once all students have received their diplomas, the ceremony will conclude with the turning of the tassels.
Detailed graduation instructions will be shared with graduates and their families prior to May 27.
In addition to graduation plans, Yellow Springs Schools has honored its Class of 2020 Seniors with congratulatory yard signs and banners that will soon be displayed in downtown Yellow Springs.
About Yellow Springs Schools:
Yellow Springs Schools is a leader in a student-centered approach to learning, educating the whole student through project-based learning. Through project-based learning, students are empowered to make meaningful change locally and globally. YS Schools founded the Deeper Learning Training Center, providing professional development opportunities for educators interested in project-based and deeper learning. Located in Yellow Springs, Ohio, a suburb of Dayton, the district is home to about 700 students, with approximately 20 percent of students each year choosing to open enroll to the district.
###