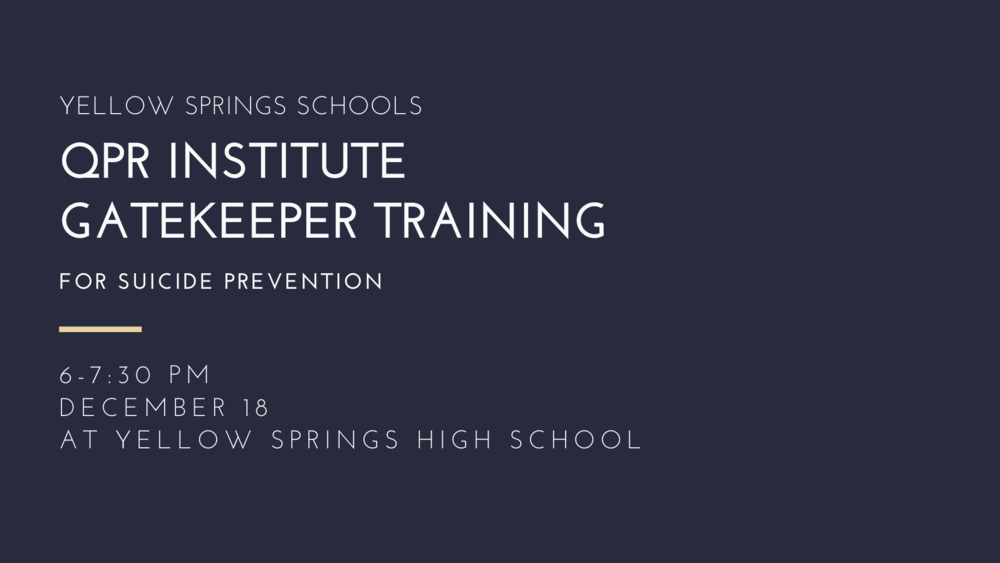 Families Invited to Gatekeeper Training for Suicide Prevention
Megan Anthony
Friday, December 06, 2019
Yellow Springs Schools will offer a parents' night for the QPR Institute's Gatekeeper Training, an evidence-based suicide prevention model, on Wednesday, Dec. 18th at Yellow Springs High School.Trainers Lake Miller, Program Manager at the National Center for Community and Justice, and Rachel Miller, Prevention Specialist at TCN Behavioral Health, will be on hand to guide parents through the Gatekeeper Training.
This is a universal, evidence-based prevention training that enables participants to identify people who may be at risk of depression or suicidal thoughts, provide an appropriate initial response to those identified, assist them on how to get help, and serve as a gatekeeper in the community.
Participants learn the QPR technique (Question, Persuade, Refer) to identify risk and encourage help-seeking behaviors and life-saving measures. Gatekeepers are not mental health professionals or doctors. They are responsible adults who spend time with other people who might be vulnerable to depression or suicidal thoughts.
The training takes place from 6-7:30 p.m. on Wednesday, Dec. 18th in the Yellow Springs High School Library and is open to all families, K-12.