EDIT MAIN
Welcome to Student Services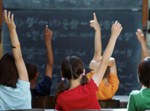 Welcome to the Student Services page. At Yellow Springs Schools, we believe that educating the whole child is an important component to student success. The Student Services Department offers specialized services to enhance the educational experience of our students through health, wellness, nutrition, therapy, technology, and educational support.
For more information, please contact Director of Student Services, Ms. Donna First.
Information Technology
Yellow Springs schools are proud to be a Google district. Students are given the opportunity to learn popular cloud-based systems in school, and Google apps are available to integrate technology in the classroom to support student engagement.
Health Services
School health includes health education, a healthy environment and health services. Health education is included to help our students prepare for a healthy lifestyle. Health services include a variety of activities, including screening for vision and hearing, mental health services offered by the school counselors and social worker, and the lunch program offered in the cafeteria. A healthy environment includes everything in the school including clean air, freedom from accidents and pollution, and a safe place to come to school. Click on the links below to learn more about Health Services and the School Nurse.
Gifted Identification Services
All students in second grade and fifth grade participate in testing to screen for gifted identification for academic and overall cognitive ability.
Questions about gifted identification can be addressed by building counselors, principals or our part-time gifted coordinator, Michele Roberts.